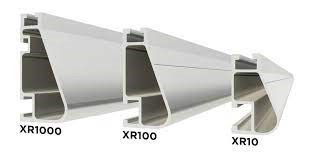 Ironridge Rail
IronRidge has developed the XR Rail, a revolutionary new solar product technology designed to protect roof-mounted solar panels from extreme weather events. The XR Rail acts as a structural backbone that prevents uplift, buckling, and safely transfers loads into the building structure while requiring fewer roof attachments and installation time. 
Ironridge, a leading provider of solar products and mounting systems, has recently unveiled their revolutionary new Ironridge XR Rail Solar Products Force Stabilizing Curve. This new design offers extraordinary strength, security and durability while tackling the toughest weather conditions.
The Ironridge XR Rail Solar Products Force Stabilizing Curve is designed to be the ultimate solution for sloped roofs that generate both vertical and lateral forces on mounting rails. The unique curved shape of the product is specially crafted to increase strength in both directions while resisting twisting. This enhanced feature ensures superior stability during turbulent weather as well as longer system lifetime.
This advanced system offers multiple advantages over traditional flat mounting solutions:
Superior Stability: The curve adds an extra element of support for your roofing system which helps keep it stable in extreme weather conditions like high winds or heavy rain.
Increased Security: The curve also provides a higher level of protection from theft due to its increased structural integrity, making it more difficult to break into than a traditional flat mount.
Longer System Life: The curvature of the product helps reduce wear-and-tear on your roofing system which can extend its lifespan by up to 20%.
Affordable Price Point: Despite its superior features and functionality, the Ironridge XR Rail Solar Products Force Stabilizing Curve is still competitively priced in comparison to other mounting solutions on the market – giving you maximum value for your money.  
Ironridge's XR Rail is the perfect solution for anyone looking to invest in solar power without worrying about the potential damage of unpredictable weather. This innovative technology can help reduce risk of costly repairs caused by storm or snow damage, making it an attractive option for property owners looking for a long-term investment with minimal upkeep costs. 
The IronRidge XR Rail system was designed with extreme weather protection in mind. It's able to resist even the worst storms in years, providing superior spanning capability and strength to hold up against high winds and heavy snowfall that could otherwise cause serious damage. Thanks to its advanced engineering, it requires fewer roof attachments than other traditional solar systems, reducing the number of roof penetrations and installation time needed. 
The XR Rail Solar Product is also incredibly easy to install and integrate into existing structures. The product comes pre-assembled with instructions on how to install it quickly and accurately without additional tools or components required. Its simple design also allows for quick repairs should any part become damaged over time due to weather or other causes. 
Beyond its practical benefits, the Ironridge XR Rail Solar Products system is also incredibly cost efficient and environmentally friendly. It's been shown to significantly reduce energy costs when compared with other traditional solar systems thanks to its advanced engineering capabilities and reduced installation time – meaning those who choose this system can save money while helping reduce their carbon footprint at the same time! 
Perhaps most importantly, Ironridge backs all of their products with an ironclad warranty that guarantees satisfaction for years down the line. With contracts available for up to 25 years or more, property owners can rest assured knowing that their investment will remain safe from storm damage no matter what Mother Nature throws their way in future years!
The revolutionary new XR Rail Solar Products are designed specifically with your needs in mind: they provide maximum protection against harsh weather elements while also reducing energy costs through their advanced engineering capabilities – giving you peace of mind that your investment will remain safe year after year!
XR10 Mounting Solar Rail is the Industry Leader in Solar Roof Structural Support
The XR Rail Family XR10 Mounting Solar Rail provides superior structural support for solar roofs, ensuring that your system can withstand whatever wild weather Mother Nature throws its way. This revolutionary product has been tested and proven to deliver the safest and most reliable solar roof mounting structure available. With an ultra-durable design, increased wind loads and unprecedented snowfall capacity, you can trust that your panels are safe no matter what conditions they face. 
At the heart of the XR Rail Family XR10's success is its patented rail technology. Its designed to resist uplift, protect against buckling, and safely transfer any load into a building's structure. The rail also has a specially designed bracket to prevent water from entering the system and potentially damaging components. The result is a robust solution that guarantees your solar roof will remain secure even under extreme weather conditions. 
What sets the XR Rail Family XR10 apart from other solutions in the market? It offers unmatched strength, durability and reliability compared to traditional mounting systems. Its innovative rail design prevents buckling while resisting uplift forces with ease. It also diverts wind away from vulnerable parts of your roof, reducing structural stress on panels during high winds or storms. And with its snow load capacity of up to 10x higher than other brands—it can handle even the harshest winter conditions without compromising safety or performance. 
Additionally, this highly customisable solution simplifies installation time and costs associated with traditional mounting systems — allowing you to get more power out of each panel installed. It's lightweight construction also reduces shipping expenses by minimizing material waste and streamlining packaging requirements for convenient storage/transport options when necessary. 
But perhaps most importantly—the XR Rail Family XR10 is backed by an industry leading warranty program that guarantees full coverage for up to 25 years! So you don't have to worry about replacing old components down the road—you're covered long-term with this product! 
With an unbeatable combination of performance, safety and value—the XR Rail Family XR10 is undeniably one of the best solutions in today's solar market! Don't wait – make sure your solar system is secure against all odds with this revolutionary product now!
XR100 Solar Mounting Rail – The Ultimate Residential Solution 
The XR Rail Family has recently announced the launch of its new XR100 Solar Mounting Rail, the ultimate residential solution for mounting solar panels. With an impressive 10 feet spanning capability, heavy load carrying capacity and a clear & black anodized finish, this rail is designed to provide homeowners with a secure and reliable way to install their solar panels. 
The XR100 Solar Mounting Rail provides excellent functionality in a wide range of wind and snow conditions, offering homeowners peace of mind when installing their solar panel system. The rail's unique design also allows for easy internal splices, making installation even simpler. In addition to its superior performance in harsh weather conditions, the XR100 has one of the highest load capacities available on the market today – capable of carrying up to 400 lbs per section – providing homeowners with maximum protection from natural elements that could otherwise damage their solar panel systems. 
The XR family offers a wide range of products that are tailored to meet specific needs and applications of individual consumers and businesses alike. The XR100 Solar Mounting Rail is no exception; by combining high quality engineering and construction materials with innovative designs, engineers at the XR family have developed a product that will stand up to any challenge it may face during installation or operation. From large-scale industrial projects to smaller residential ones, this rail provides optimum performance regardless of application or budget size. 
Furthermore, thanks to its lightweight but durable construction, the rail can be easily transported and installed onsite without any additional equipment required. This not only saves time but also allows for cost efficient solutions since there is no need for specialised tools or extra labour costs associated with larger installations such as those involving large scale steel frames or foundations which can often incur additional expenses. 
XR Rail Family has been in business for over 25 years, always striving to create products which offer maximum efficiency while remaining cost effective and reliable; features which have made them trusted sources for industry professionals around the world who rely on them when it comes to their most demanding projects. With their latest addition -the XR100 Solar Mounting Rail – they continue this legacy by providing homeowners with peace of mind knowing that their solar panel systems are securely installed using one of the best products available on the market today.
XR1000 Mounting Solar Rail
A revolutionary new solar mounting rail system has just been released, and it's set to revolutionize the way businesses and homeowners install solar panels. The XR Rail Family XR1000 is a heavyweight among solar mounting rails, boasting a 12′ spanning capability, extreme load capability, clear anodized finish, and internal splices available.
The XR Rail Family XR1000 was designed with extreme climates in mind. Boasting 12 feet of spanning capability, this heavy-duty rail system can handle even the toughest of jobs and terrain. Its clear anodized finish provides superior corrosion resistance for long-term durability and aesthetic appeal. And with its internal splices available option, customers get a seamless installation that ensures maximum stability and security over the long haul. 
The XR Rail Family XR1000 is an all-in-one solution for commercial solar projects. It has been tested to ensure it can withstand extreme loads without compromising on quality or performance. With features such as interlocking splices for easy installation and an adjustable base design for precise placement on uneven terrain, the XR Rail Family XR1000 is ideal for larger projects where speed and reliability are essential. 
Additionally, the XR Rail Family has been designed to provide superior safety when used in conjunction with other products such as racking components or modules. Its sturdy construction means it will stand up to harsh weather conditions while also providing rock solid support for your PV array. To top it off, all components are non-corrosive so you won't need to worry about rust damage over time either. 
The overall design of the product was created with convenience in mind as well – making it easier than ever before to equip your structures with reliable solar power quickly and efficiently. From its adjustable base design to its interlocking splices that allow for fast installation without any extra parts or tools required – everything about the product promotes maximum efficiency when working on large scale projects involving multiple structures or panels of varying sizes or shapes. 
Of course, no matter how great a product is if it doesn't last then there's really no point in investing in it at all – which is why we've developed our own proprietary technologies that help ensure our solar mounting rails are protected from environmental elements such as UV radiation or salt air corrosion – both of which can significantly reduce their lifespan if left untreated. All components within our rail systems are treated using these methods ensuring maximum longevity which helps us provide our customers with peace of mind knowing that they've made a wise investment when they partner up with us here at XR Rail Family! 
In summary then, the brand new XR Rail Family XR1000 Mounting Solar Rail provides businesses and homeowners alike with a reliable solution designed specifically for large scale commercial applications involving long spans across uneven terrain – giving people high quality results whilst saving them money at the same time! We believe that by investing in our state-of-the-art solar mounting rail you'll be able to harness energy from the sun faster than ever before without having to compromise on quality along the way – so why not take advantage of what we have to offer today?